Happy holiday season, everyone!
It's that time of year where my workout schedule is all over the place and I'm never quite sure where I'll fit in a run. But that's ok… it's the end of the year, time to enjoy some cookies and vegan nog and chill out by the Christmas lights. January will be here before we know it and I'll be planning all those 2020 running goals (like running Ottawa!) very soon.
But while you're here, let's do something a little fun! I've had some new readers over the last few months and wanted to introduce myself. But rather than the usual boring bio, let's instead do a '5 random things I bet you didn't know about me'. Well, maybe some of you did know a few of them, but probably at least one of these factoids is new!
1. I used to be a massage therapist
Yep, it's true! I worked in the profession for eight years before moving on to something new. Before I was an RMT, I worked a few other healthcare jobs, so I've got quite a few years of experience in that realm!
I still love and respect massage therapists and still use my (somewhat rusty now, I admit!) knowledge of anatomy to help me at the gym, with running and with my injuries.
Bonus fact: I rarely tell healthcare providers that I used to be an RMT. I'd rather they didn't make assumptions about my knowledge! It has created a few 'hey waitaminute' moments though, like when I start explaining my injuries in detail including proper anatomical names of things. (I do tell them if they ask about how I know this stuff, though!)
2. I'm a Blink
That's a Blackpink fan for those who aren't into KPop at all. Ok, maybe I'm not as big a fan as some people… I know the names of the girls but it's not like when I was 13 and obsessed with NKOTB! I think maybe I'm a bit too old for that now, haha. But I do love their songs and put most of them on my Vancouver Marathon playlist. My favourites are Boombayah and Jennie's Solo.
Bonus fact: I've also spent several hours watching dance routines to Boombayah and Kill This Love on YouTube (no, I can't dance – but I wish I could!).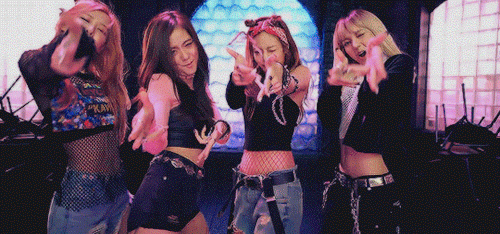 Blackpink in your area…
3. I've had a meditation practice for 11 years
I spent 10 years of that as a student of Zen Buddhism. It certainly changed my life! Currently, my practice is a bit more freeform. I still call myself Buddhist, if we need to have labels, but no longer feel 'Zen' is my home (or at least not in the style I was involved with – I'm super open to possibilities otherwise!). I am looking for a new group to meditate with regularly and have several I've been recommended by friends.
Bonus fact: I think I did between 40 and 50 retreats (intensive periods of meditation lasting 5 to 7 days) during my years as a Zen student. It's an experience that is hard to describe. I recommend trying at least one retreat if you ever get the chance, you learn a lot about yourself during them.
4. I love personality tests
I'm an INFJ in the MBTI. I'm also an Enneagram Type 2w1. If you're also into personality test type stuff, that may interest you! Being an INFJ means I'm sensitive, creative, future-focused and prefer to form deep, meaningful relationships with a small number of people. Being a 2w1 (type two wing one) means I'm a 'Helper' type leaning towards 'Serving' others. I tend to be friendly, empathetic and sincere. Having that wing 1 in there means I have perfectionist tendencies and that it's very important to me to be fair and respectful of others. This can be a very good thing at times, but it also can be a bit of an Achilles heel.
Bonus fact: It's no surprise that most of my jobs have been 'helping' jobs, whether it's the years I spent in healthcare or the fundraising I've done (and a formal certificate in Fundraising Management too!).
5. My dream race is the Tokyo Marathon
I absolutely love Japan and it would be a dream to run Tokyo someday! But given it is one of the 6 Abbott World Majors, it's not super likely I'll ever get in. I can dream, though! I will try tossing my name in the draw, maybe in a couple of years once we see what my knee is doing.
Bonus fact: I've been studying Japanese for a couple of years. I use Duolingo and a variety of Japanese videos on YouTube. Now, I am absolutely nowhere near fluent! But I could do very basic things like order food, ask for directions or politely greet people as I walk into shops (and apologize for my atrocious Japanese skills!). I can also read Hiragana (one of the three lettering systems in Japan) but do it very slowly. Probably a toddler in Japan would be faster than I am, haha!
Ok, that's it for now! Hope you all have a wonderful Christmas or whatever holidays you might celebrate! I'll be back with more running-related posts soon.